Workshops and Mentoring / Training for Colleges

Comprehensive Employee Acquisition, Retention and Enhancement Programs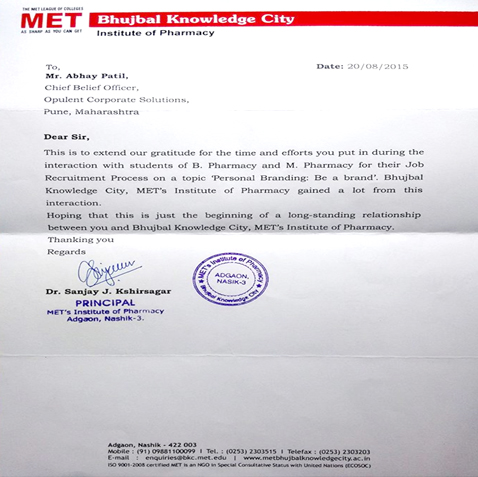 IIKD offers a comprehensive Employee Acquisition, Retention and Enhancement Programs that create self motivated, result driven and capable personnel.
Our programs inculcate a corporate learning culture that creates continuous employee growth & success.
A combination of classroom & technology based training delivery methods has helped us develop an effective process for building your corporate image & measuring the return on your knowledge investment for personnel at all levels.
We at IIKD work with a powerful philosophy that has helped us keep a track record of professional training success.
The promoters are veterans from the field, who draw from their combined years of experience and knowledge to support the need of the industry in a way that only an insider can perceive and respond.
IIKD is an upcoming Talent and Knowledge Educational Institute set up especially with a vision to serve the Banking, Financial Services and Insurance (BFSI), Pharmaceutical, Engineering, Consultancy, IT  and ITES sector.
Training Modules Delivered in Reputed Colleges

Digital Marketing for Non-IT Professionals
Business Etiquette & Professional Decorum
Personal Branding – How to be an Individual Brand differentiating the rest.
Preparing yourself for the Corporate World
4DX – 4 Disciplines of Execution.
The Science of Belief: Unleashing the Power of Matter and Miracles.
Who Moved my Cheese? (Anticipate Change and Adapting it Quickly)
Netpreneurship – The Time is Now, the Message is Forever.
Neuro–linguistic programming (NLP): Emotional Anchoring
Importance and Need of Spiritual Quotient (SQ) for Eternal Success.
Applying Emotional Quotient (EQ) for superior results
Alignment of Corporate Vision
Management & Leadership program
Client Relationship Management.
Work – Life Balancing
The above are some of the topics we have already delivered in various reputed Management / Pharmaceutical / Engineering Colleges and were gracefully accepted and appreciated.