"Learn how many times you can attempt the IAS exam and plan your journey effectively. Unlock UPSC guidelines and succeed in the civil services."
IAS stands for the "Indian Administrative Service." It is one of the premier civil services in India, responsible for the administration of the country at the highest level. IAS officers serve as top-level bureaucrats in the Indian government. They are responsible for implementing government policies, managing government functions, and ensuring effective governance in various administrative roles. The IAS is one of the most prestigious civil services in India, and aspiring candidates often have questions about the attempt limit associated with this examination. Here's a brief overview of the attempt limit and related details:
Number of Attempts: the attempt limit for the IAS exam are as follows:
General Category: 6 attempts.
OBC Category: 9 attempts.
SC/ST Category: No specific attempt limit.
Age Limit: The maximum age limit for the IAS exam varies with the category of the candidate:
General Category: 32 years.
OBC Category: 35 years.
SC/ST Category: 37 years.
Relaxation for Physically Disabled: Candidates with physical disabilities can get age relaxations of up to 10 years, depending on the degree of disability.
Consecutive Attempts: The attempts are counted as long as the candidate satisfies the age criteria. For example, if a candidate is eligible to appear for the exam for 6 years, they can make 6 attempts in those 6 years.
Note on Category: The candidate's category for attempt limit purposes is determined at the first attempt. For instance, if you first appear in the exam as a General category candidate, your subsequent attempts will be counted in the General category limit, even if you later change your category to OBC or SC/ST.
Changes and Updates: The attempt limit and age criteria can change over time, so it's essential to stay updated with the latest guidelines and notifications released by the Union Public Service Commission (UPSC), which conducts the IAS examination.
Previous Attempts: If you have made an attempt in the past and not appeared in all the papers or if your application was rejected, that attempt might not be counted in your overall limit. However, the specific rules can vary, so it's advisable to check with UPSC or the official notification for details.
It's important to keep in mind that these rules are subject to change, and the most accurate and up-to-date information can be found on the official UPSC website or through notifications published by UPSC. Research the latest UPSC guidelines regarding the IAS attempt limit. Ensure you are aware of the current rules and restrictions in place.
IIKD (Indian Institute of Knowledge and Development) is leading as one of the Best IAS coaching center in Mumbai as well as vasai virar nalasopara, preapring students with exclusive training methodology UPSC posts and salary are revised as per new syllabus.
Importance of Knowing the Attempt Limit
Knowing the attempt limit is the foundation of your IAS preparation. It helps in setting realistic goals, managing time effectively, and reducing stress.
How to Do It:
Evaluate your strengths and weaknesses in different subjects-
When evaluating your strengths and weaknesses in different subjects for the IAS (Indian Administrative Service) exam, it's essential to be honest with yourself and identify areas where you excel and areas where you need improvement. Here's how to go about it:
Subject Proficiency: Identify subjects in which you have a strong foundation or background knowledge. This could be subjects you've studied in college or have a natural aptitude for. For many, this might include subjects like History, Geography, Political Science, or Economics.
Analytical Skills: Recognize your ability to analyze complex issues, think critically, and solve problems. These skills are valuable in subjects that require in-depth analysis, like General Studies or Essay writing.
Research Skills: If you excel in conducting research and gathering information, this can be an advantage in subjects that involve extensive data collection and analysis, such as current affairs and optional subjects.
Language Proficiency: Strong language skills, especially in English, can be beneficial, as the IAS exam has an English language paper and a significant amount of written communication is involved.
Consistency: If you have a history of being consistent in your efforts and study routine, it can serve as a strength, especially given the vast syllabus and the need for long-term preparation.
Subject Weakness: Identify subjects or topics where you struggle or lack a strong foundation. It's crucial to address these weaknesses as they may be a significant part of the IAS exam. Consider enrolling in classes or seeking additional resources for such subjects. IIKD is a leading institute for coaching students for IAS. With our experienced and well versed faculties you can surely crack the IAS exam!
Time Management: If time management is a challenge for you, it can be a weakness. The IAS exam requires effective time management as you need to cover a vast syllabus in a limited time. Developing a study schedule and adhering to it can help.
Writing Skills: Weakness in writing can be a hindrance, especially for the Essay paper and the Mains examination. Practice writing regularly and seek feedback to improve your writing skills.
Current Affairs Awareness: Being unaware of current events and affairs can be a significant weakness, as the IAS exam assesses your knowledge of current affairs. Make it a habit to read newspapers and stay updated.
         2. Create a personalized study plan based on your analysis-
Customer support abstract concept vector illustration. Tech support, telemarketing, provide customer service, management software, online chat, help center, buyer helpline abstract metaphor.[/caption]
Creating a personalized study plan for the IAS exam based on your strengths and weaknesses is crucial for effective preparation. It's important to customize this plan based on your personal strengths and weaknesses and the time you have available for preparation. Regularly assess your progress, make adjustments as needed, and stay committed to your goals. Preparing for the IAS exam is a marathon, and consistency and focused effort will be your keys to success.
Monitor your progress to ensure you stay within the attempt limit-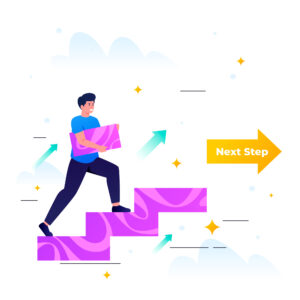 Know the rules and regulations regarding the number of attempts allowed for the IAS exam. Make a note of the total permissible attempts, including any reserved category or age-related concessions if applicable.
Maintain a Progress Journal:
Create a progress journal or spreadsheet to record your exam attempts, including the year, month, and attempt number. Update it whenever you appear for the exam.
Regularly assess your preparedness for the exam. Take mock tests and practice papers to gauge your performance. If you consistently score below the desired level or if you feel unprepared, consider postponing your attempt.
After each mock test, analyze your strengths and weaknesses. Identify areas that need improvement and focus your study efforts on those. Pay attention to time management and question-answering skills.
Consult mentors, teachers, or IAS exam experts to evaluate your readiness. They can provide valuable insights into whether you are well-prepared for the upcoming attempt or if more preparation time is needed.
Assess your preparation realistically. Understand that clearing the IAS exam requires thorough preparation and a good understanding of a wide range of subjects. Don't rush into an attempt if you feel you're not adequately prepared.
Based on your self-assessment and progress, plan your attempts strategically. If you feel well-prepared, go ahead with your attempt. If not, consider delaying your attempt until you are more confident in your readiness.
Stay updated on any changes in the IAS exam pattern or eligibility criteria. This will help you make informed decisions about your attempts.
If you've made several unsuccessful attempts, consider taking a break from the exam to reevaluate your strategy and enhance your preparation. You can use this time to gain additional knowledge and skills.
Strategies for Maximizing Your IAS Attempts
To make the most of your limited attempts, you need a strategic approach. This section will delve into proven strategies that successful IAS candidates have used.
How to Do It:
Choose optional subjects wisely, based on your interests and strengths-
Selecting optional subjects for the IAS (Indian Administrative Service) exam is a crucial decision that can significantly impact your performance and overall success. When choosing optional subjects, it's important to consider your interests, strengths, and the overall strategy for the examination.
Take mock tests and practice previous years' question papers-
Taking mock tests and practicing previous years' question papers is a critical part of your IAS (Indian Administrative Service) exam preparation. Mock tests and previous years' question papers help you become familiar with the format, structure, and pattern of the IAS exam. This reduces the element of surprise on the actual exam day. Practicing with a timer during mock tests helps you improve your time management skills. You'll learn to allocate the right amount of time to each section and avoid getting stuck on difficult questions.
Learn time management to complete the exam within the stipulated time-
Learning time management is essential for completing the IAS exam within the stipulated time. The IAS exam consists of multiple papers, each with a fixed time limit. Familiarize yourself with the exam structure, including the number of papers, the duration of each paper, and the order in which they are conducted. This understanding will help you plan your time allocation. 
Stay updated with current affairs and events-
Staying updated with current affairs and events is an integral part. Make it a habit to read newspapers such as "The Hindu," "The Indian Express," and "The Times of India" regularly. Focus on the national news, international news, and editorials. These sources provide in-depth coverage of current events and analysis. Install news apps on your mobile devices or bookmark reputable news websites. This allows you to access news updates quickly and conveniently throughout the day. Watching news programs on television to stay informed about the latest happenings can be very helpful. Staying updated with current affairs is not just a part of your IAS exam preparation; it's a valuable lifelong skill for an administrative career. Joining a upsc classes can help you to be updated and well informed with the current affairs.
Stay persistent and keep revising-
Staying persistent and maintaining a consistent revision routine is essential for success in the IAS. Define your short-term and long-term goals. Understand what you want to achieve in each study session and over the course of your IAS exam preparation.
Tips for Success in Your IAS Journey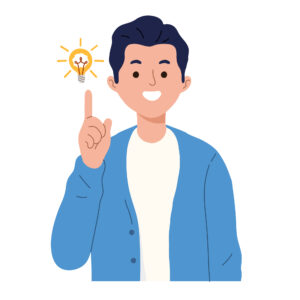 Man shows gesture of a great idea find solution of the problem vector illustration in cartoon style Concept[/caption]
In your journey to become an IAS officer, there are several tips that can significantly improve your chances of success.
How to Do It:
Develop effective note-taking and revision techniques.
Maintain a healthy lifestyle to reduce stress.
Join a reputable coaching institute or study group.
Stay motivated and learn from your failures.
Keep updated with current events and government policies.